Pune: Fig plantations ruined; fruit at risk of disease due to rain
Sandip Dighe / TNN / Updated: Dec 5, 2021, 07:59 ISTAA+
TEXT SIZE
ARTICLES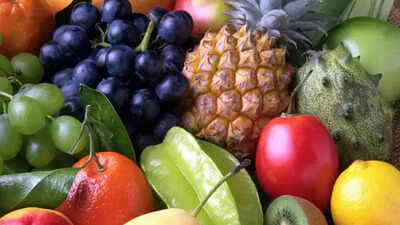 Representative image PUNE: Vijay Jadhav, who usually earns Rs 5-6 lakh from figs over a 1-acre plantation, fears a complete loss this year. Of his four-acre fig plantation, two acres that were at the harvesting stage have suffered 70% damage due the unseasonal rainfall over the last three days.
Like Jadhav, hundreds of figs growers in Purandar taluka, which is famous for 'anjir' and custard apple in the state, face a similar fate. "I have dumped half the produce in a pit near my house. Most fruit has been ruined due to the rain," Jadhav told TOI on Saturday. "One requires at least Rs1.30 lakh investment to grow good quality figs. I will not get even recover the capital investment from this year's harvest," he said.
Fig or 'anjir' plantations spread over 600 acres in Purandar taluka are in danger, as per growers, agriculture scientists, and officials from the district agriculture office. The harvest season of the fruit had begun last month and most plantations that are at the harvesting stage have been badly affected. According to growers, they will have to shell out more money to spray pesticides and meet expenses to save the remaining harvest.
Yuvraj Balgude, a plant pathologist working at Purandar taluka's fig and guava research centre, said the existing weather conditions are favourable for rust disease which can spread fast in plantations. "This disease primarily affects the growth of the leaves and the quality of the fruit. Figs are delicate and most of the fruits have developed cracks due to the rainfall. Many farmers are likely to suffer losses," said Balgude.
According to another agriculture scientists, the local centre has advised farmers and growers to spread pesticide to control the disease to some extent. "Clear skies and a cool atmosphere are necessary for figs to grow well. For the last five days, the conditions have mostly remained overcast in the district. This will affect the overall harvest in Purandar," he added.
Anil Lohate, another plant pathologist who has worked in Purandar for a few years, said there is a danger of fruits dropping as well due to the adverse weather conditions. "Usually, get fruits in the range of 30-60kg from one fig tree. But this time they might get less." Lohate added that as figs are extremely delicate, growers need to spray pesticides consistently. "Figs have to be plucked and packaged carefully. Maintaining quality standards is a mammoth task. Hence, the capital investment in fig is more than that required for other fruits," said Lohate.