Farmers in Narok staring at losses as head smut disease ravages crop
By thenairobistar – June 6, 2021 0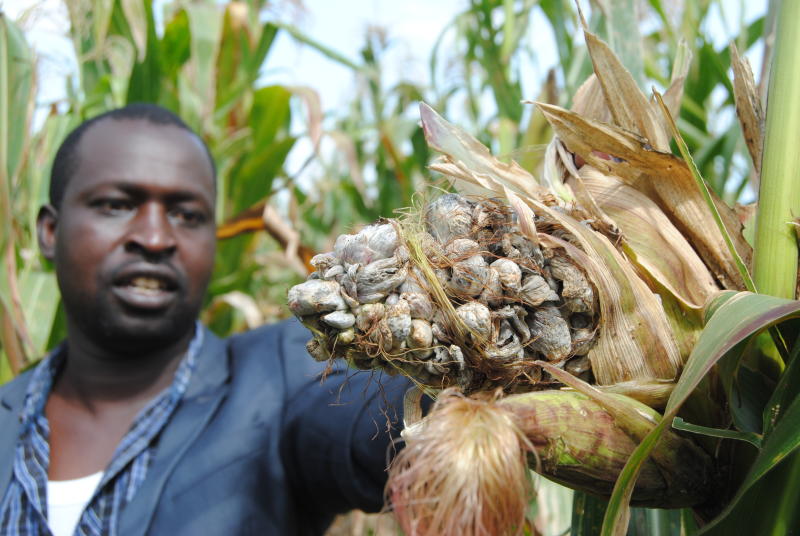 A section of maize farmers in Narok South is staring at losses worth millions in crop yields following the outbreak of head smut disease suspected to be linked with fake seeds.
Most of the farmers who claim to have bought 'genuine' seeds are crying foul after their crops develop head smuts at a time they were anticipating a bumper harvest.
According to Edwin Osoro, a large-scale maize farmer at Olkiriaine in Ololung'a area, his crop was lush in the initial stages up to the production stage when he realised that the cobs had been affected by the head smut disease.
"I did 168 acres of maize this year and I was optimistic that this will be the turning point in my farming life, but I was mistaken. The crop has been doing well for the last five months but last month after inspection, I found that in every five maize plants, three had head smuts," said Osoro.
He told The Standard he had invested Sh2 million and was expecting at least an Sh15 million in returns but his hopes have now been dashed.
"I purchased my seeds through a renowned agent whom I paid then he made the payment to the seed company. I went with my lorry and picked the consignment at the Narok Kenya Seed yard but from these yields, I doubt the seed quality," narrated Osoro.
Head smut is caused by the fungus Sphacelotheca reiliana forming on the tassels and ears, whereby galls are at first covered with a thin layer of tissue that breaks open to expose the black spore masses and threadlike remains of the vascular bundles.
Mr Osoro, who has been in the maize planting business for 10 years now, claims that he maintained his farm well and the disease could only be as a result of fake seeds.
Raphael Keiwa, who owns a 10-acre maize farm, is also experiencing the same problem.
"I bought my seeds from an agrovet in Ololung'a as I always do. Last year I harvested 22 90kg bags per acre, but this year I will be lucky if I get five bags per acre," said Mr Keiwa.